Fuerteventura Oasis Park Entrance Ticket Including Transport
Europe » Spain » Canary Islands » Fuerteventura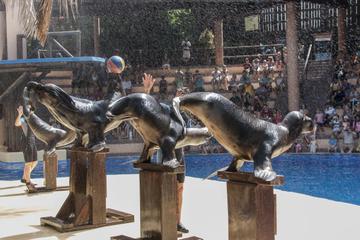 (5.0)
Duration: 8 hours
Departs: Fuerteventura, Spain
Price from USD 36.82
Book Now
Explore Fuerteventura Oasis Park, home to more than 3,000 animals and thousands of tropical plants, and enjoy transport from and to your hotel with this entrance ticket. Spend a day wandering around this incredible park, and get up close to hundreds of species of wildlife. Hear parrots squawk, watch sea lions dance and cuddle up with baby crocodiles at the shows. Then, head to the African savannah to feed giraffes and watch hippos, elephants and gazelles. Perhaps end the day with a camel safari or a stroll through the botanical gardens.
Start your day with a pickup from your hotel, then travel by air-conditioned coach to Fuerteventura Oasis Park. Located in La Lajita in the south of the island, it is home to more than 3,000 animals and thousands of tropical plants.

On arrival, pick up a map and plot your day. Perhaps start at the parrot show, which is located close to the entrance. Watch in amazement as these colorful birds demonstrate their comical talents, and learn fascinating facts about them from the keeper. Or venture to the birds of prey show to learn about the ecological importance of hawks, vultures, owls and eagles.

After, continue to the reptile show where you can get up close to snakes, crocodiles and more. En route, pass the lemur enclosure. Look for these mysterious creatures amid the trees and, should you wish, head inside with one of the park's biologists to interact with them (own expense).

Next, make your way through the monkey habitats. Be enchanted by tiny tamarins and marmosets, marvel at the mighty baboons, and hear the excited chatter of patas monkeys as you stroll.

Then, find yourself in the African savannah! Watch as gazelles frolic, hippos bathe, elephants play and cheetahs race. Head up onto the aerial walkway and come face-to-face with a herd of curious giraffes. Reach out and stroke their distinctive coats and, if you've purchased a food bag (own expense), feel the tickle of their tongues as they eat out of the palm of your hand.

Feeling adventurous? Head off on a camel safari (own expense). From atop your trusty steed, set off in a convoy to the top of a nearby mountain for stunning views of the island, or head deeper into the park to get a closer look at the animals.

Later, stop at one of the three restaurants for a drink and some food (own expense), then make for the sea lion show. Watch as these slippery creatures dance and perform tricks. You can also book to enjoy direct contact with them in the water (own expense).

Other highlights include a birds-of-prey show, Fuerteventura's only botanical garden and a farm where your young ones can pet animals such as goats, ostriches, guinea pigs and rabbits.

Your tour concludes with a drop-off back at your hotel.
« All Activities