Lanzarote Island Tour from Fuerteventura Including Lunch
Europe » Spain » Canary Islands » Fuerteventura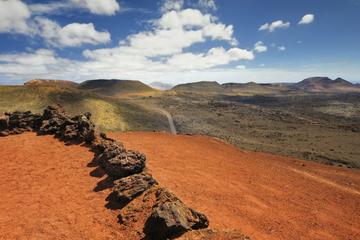 (5.0)
Duration: Varies between 9 and 13 hours
Departs: Fuerteventura, Spain
Price from USD 78.10
Book Now
Be enchanted by Lanzarote's lunar landscape and rich natural beauty on this full-day trip from Fuerteventura. With a local guide leading the way, ride along the Route of the Volcanoes and get up close to the awe-inspiring Fire Mountains at Timanfaya National Park. Marvel at the beauty of the lava-carved west coast and the green lagoon at El Golfo, then relax over a delicious lunch before sampling a glass of local wine in La Geria. End your tour with free time at Jameos del Agua, a swanky cave-turned-resort on the coast.
Start your day trip with a pickup from your hotel in Caleta de Fuste, or make your own way to the prearranged meeting point to join up with your local guide. Then, board your ferry to Lanzarote.
After approximately 30 minutes of unparalleled views over the shimmering Atlantic Ocean, arrive in Playa Blanca on Lanzarote's southern coast. Hop back inside your comfortable coach and take in the island's beaches and dramatic volcanic moonscape as you journey toward Timanfaya National Park.
As you approach, look up at the dramatic red and black-rock mountain range, aptly named the Fire Mountains (Montañas de Fuego).

Discover the famous Route of the Volcanoes, passing by steaming pits and watching as geysers explode, and listen to your guide explain that, despite the volcanoes being dormant, the park remains a potent source of geothermal energy thanks to a residual magma chamber brooding below.
Next, enjoy the beautiful island scenery as you cruise along the rocky lava coast toward El Golfo, where an emerald green lagoon awaits. Then, head to the village of Yaiza to recharge with a refreshing glass of wine and a delicious lunch of chicken and salad at a local restaurant.
With your appetite sated, cross over into La Geria. As you travel, gaze out of the window and see how the entire landscape is covered in vineyards. Hear from your guide how the region is famous for its wine, and then pull up outside a traditional winery to sample a glass of local wine.

After, continue north, crossing the oasis of Haria, an area known locally as the Valley of a Thousand Palms. Learn how locals traditionally plant palm trees at the spot to mark the birth of a child.
Finally, visit Jameos del Agua, an idyllic coastal cave-turned-resort designed by local artist Manrique.

Your tour then concludes back at the original start point in Fuerteventura.
« All Activities