Lobos Island Round-Trip Ferry Ride from Fuerteventura
Europe » Spain » Canary Islands » Fuerteventura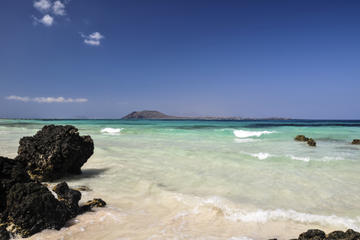 (3.0)
Duration: Varies depending on customer's choices to travel to/from Fuerteventura
Departs: Fuerteventura, Spain
Price from USD 16.74
Book Now
Sunbathe, swim and soak up the scenic sights with this round-trip ferry ride to Lobos Island from Fuerteventura. Choose the ferry times most convenient for you, then glide across the shimmering Atlantic Ocean to this tiny, tranquil island and nature reserve. Laze on the powdery sands, cool off in the clear waters, or trek along one of the walking routes to explore the pretty scenery. Upgrade to include a glass-bottom boat mini-cruise with an included drink.
Choose the ferry departure time most convenient to you, and then make your own way to Corralejo Harbour in northern Fuerteventura.
Hop aboard your ferry and settle into a comfortable spot on deck. As you slip away from the harbor, take in views of the charming Fuerteventura Old Town and the endless stretches of pristine, sandy beaches.

Gaze out over the azure Atlantic Ocean, then, after approximately 15 minutes, disembark on the beautiful island of Lobos. Named after a colony of seals who used to thrive there, this tiny island and nature reserve is a sanctuary for walkers and nature lovers.

Find a spot on the powdery white beach and soak up the warm Canarian sun. Then, dive into the turquoise sea for a cooling swim. If you have a snorkel set with you, paddle out in the crystalline waters to explore the wonders of the life below sea level.

Alternatively, set off along one of the walking routes to explore the island. Perhaps head to Montaña La Caldera (The Cauldron Mountain) at the highest point of the island, or make your way down the coast to the picturesque lighthouse. Other scenic highlights include La Hoya de Las Lagunitas (The Valley of the Little Lagoons), Los Hornitos (The Little Ovens) and the dilapidated Los Edificios Volcánicos (Volcanic Buildings).

If you have upgraded to include the mini-cruise on a glass-bottom boat, make your way to the prearranged meeting point when the time comes. Then, head down into the belly of the boat and sip your included refreshing drink as you watch for shoals of brightly colored fish.

When you've have your fill of sun, sea and sand, return to the docking point to catch your ferry back to Fuerteventura.
« All Activities