Maxi Power Sailing Experience in Fuerteventura
Europe » Spain » Canary Islands » Fuerteventura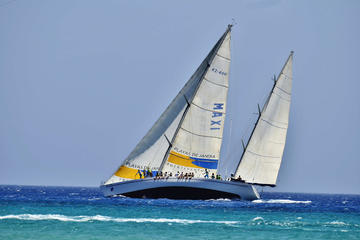 Duration: 3 hours
Departs: Fuerteventura, Spain
Price from USD 89.20
Book Now
Book this 3-hour activity and experience the world of professional race sailing on-board the legendary Fisher and Paykel Maxi yacht ( second place in the 89/90 Whitbread Round-the-World Race). Whether novice or experienced sailor, you will have an unforgettable time on this magnificent, totally renovated world-class regatta sailing boat.
Enjoy a dynamic 2.5-hour sailing adventure on one of the biggest racing yachts ever built for round-the-world competition. Thirty tons of weight and several hundred horsepower produced by up to 900 square metres of sail surface to thrust it forward: the dynamics and the thrill of this experience will make you come back for more.

The stunning views of the Canary Islands, the warm waters of the Atlantic and the steady, prevailing Trade Winds provide the perfect conditions for a once-in-a-lifetime sailing adventure.

Make the most of this experience with the assistance of your professional skipper who has competed twice in the round-the-world race.
« All Activities