South Lanzarote Day Trip from Fuerteventura
Europe » Spain » Canary Islands » Fuerteventura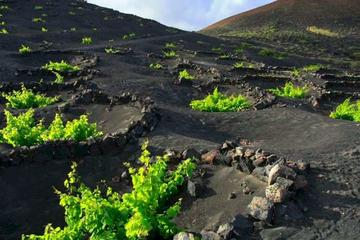 (4.0)
Duration: From 8 to 10 hours
Departs: Fuerteventura, Spain
Price from USD 55.79
Book Now
Uncover the incredible landscapes and natural phenomena of southern Lanzarote on this full-day trip from Fuerteventura. With an expert guide at your side, trek across the jagged, volcanic terrain at Timanfaya National Park and enjoy an optional camel ride by the famous Fire Mountains. Then, visit a local winery in the island's winemaking region of La Geria before working your way along the lava-carved west coast, seeing incredible natural wonders such as the green lagoon at El Golfo and Los Hervideros grottoes. A delicious buffet lunch with wine is included.
Make your own way to Corralejo Harbour in northern Fuerteventura to board your 30-minute ferry crossing to Lanzarote.

On arrival, enjoy free time for a drink and some food (own expense) in Playa Blanca before joining up with your local guide at the prearranged meeting point. Then, hop inside an air-conditioned coach and take in the island's beautiful beaches and volcanic landscape as you cruise toward Timanfaya National Park.

Jump out of your coach at the base of a dramatic red and black volcanic mountain range known as the Fire Mountains (Montañas de Fuego). Set off on a 15-minute optional camel ride (own expense) to get your first up-close glimpse of the lunar landscape, then return to your coach to begin the ascent up the mountains.

Walk with your guide around the summit of one of the Fire Mountains, and hear how the park lies on top of a residual magma chamber. Then, watch in amazement as bundles of branches thrown into steaming pits explode into flames instantaneously.

Next, trace the Route of the Volcanoes, soaking up the breathtaking views as your coach twists around the slopes. As you travel, listen to your guide talk about the 18th-century eruptions that formed the area's cones and calderas.

Then, head to La Geria, Lanzarote's winemaking region. Admire the vineyard-studded landscape and learn about the techniques used to produce the island's crisp, fruity wine. Then, pull up outside a local winery and head inside to try a glass for yourself.

Continue on to the lava-carved west coast and El Golfo, where an otherworldly emerald green lagoon awaits you. On route, pause at the Janubio salt pans and visit Los Hervideros, a dramatic section of coastline adorned with piercing rock columns, unusually shaped archways and natural rock sculptures.

After working up your appetite, head to a local restaurant in the village of Yaiza. Here, sink your teeth into a delicious buffet of traditional delights such as Canarian potatoes with mojo (pepper) sauce, accompanied by a glass of wine.

Following lunch, relax on the journey back to Playa Blanca where you can head straight to the harbor for your return ferry. Alternatively, enjoy around two hours of free time to explore before returning to Fuerteventura, where your tour concludes.
« All Activities